The Art of Brewing
The brewing of beer has been a significant activity in Bohemia since time immemorial. The right to brew beer had initially been the exclusive province of citizens within the walled city. Thus the right to brew beer was conditional on the ownership of a house in the inner city; then the house was referred to as having brewing rights. But not all house owners had the right to brew beer, and those who possessed it formed the town's elite. The producer either sold beer on his premises or sold it to an innkeeper.
A peculiarity was that brewing beer was considered a business rather than a production; the brewer therefore was allowed to pursue other, additional income-producing activity, a practice not available to others. E.g., a shoemaker was barred from tanning leather and competing with tanners, the innkeeper was not allowed to slaughter large stock in competition with butchers. Such limitations did not exist for brewers of beer. The source of water for brewing was the river Chrudimka via aqueduct which also supplied the town fountains. Two kinds of malt were produced: of wheat for "white" beer, and of barley for bitter beer. A weak beer called "patok" was brewed from the leftover mash. The history of beer-brewing is described in detail in the book Old Chrudim.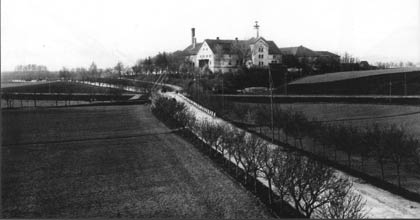 Town brewery 1925, Source: Calendar Chrudim 2001
The town brewery was built in 1868 by master builder Frantisek Schmoranz Sr. Water was brought in from springs at Podhura by way of the Jordanek pond. In 1910/1911 the brewery produced 30,539 hl beer. Advertisements of 1925 indicate that the brewery produced tap beer of the 10 proof grade, a 12 proof "Breznak," a 12 proof "Granat" ("a doctor-recommended specialty"), and an old Czech double malt, 15 proof "Salvator."
In 1928 the brewery was purchased by the Pardubice brewery. The last batch in Chrudim was brewed on 31.7.1942 when the war forced closure of the brewery. It was not reopened after the war.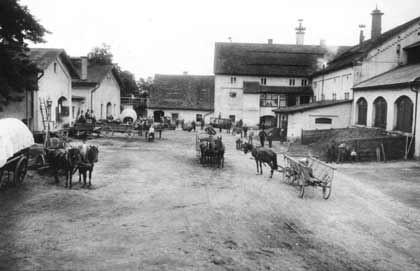 Town brewery 1925, Source: Calendar Chrudim 2001
Tato stránka je přístupná libovolným prohlížečem, nejlépe však vypadá v prohlížeči, který podporuje HTML 4.0 a CSS 2 (Internet Explorer od verze 5, Mozilla, Opera a další). Pokud čtete tuto zprávu, Váš prohlížeč zřejmě dostatečně nepodporuje CSS. Stránku sice vidíte bez pokročilejšího formátování, avšak veškerý obsah je plně přístupný i pro Vás.