Town seal
The oldest known seal of the city is preserved in a document dated September 16th, 1362. The image on the seal is that of an eagle with spread wings, adorned with a ribbon, its beak raised, and the letters Chrudim strewn about its head and talons. The transcript bears the Latin inscription, "S. civium civitatis Crudyn", i.e., the Seal of Citizens of Chrudim.
Privileges the town received from King Vladislav II on 18.August, 1472, permitted use of red wax with the seal. The oldest seal preserved in the county museum dates to 1776; it bears the image of an eagle and the title, "Sigillium reg. Dotalis ac districtualis urbis Chrudim" i.e., the royal seal of the dowry and regional city of Chrudim.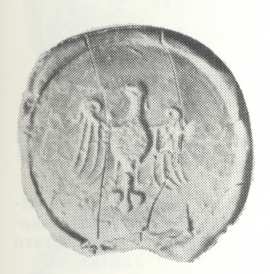 Around 14th century
Due simple representation we can consider, that this is the oldest town seal even it was probably never used in diplomatic documents.
Around 15th century
In technical literature we can find similar type of seal only with title change: "Sigillum minus ..." 36mm diameter. We can assume, that both types were used in the same time period, i.e. in the 15th century.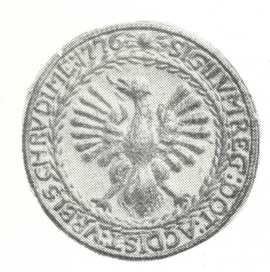 King's dowry and territory town Chrudim, year 1776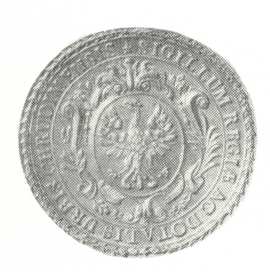 King's dowry town Chrudim, probably 17.-18. century
Tato stránka je přístupná libovolným prohlížečem, nejlépe však vypadá v prohlížeči, který podporuje HTML 4.0 a CSS 2 (Internet Explorer od verze 5, Mozilla, Opera a další). Pokud čtete tuto zprávu, Váš prohlížeč zřejmě dostatečně nepodporuje CSS. Stránku sice vidíte bez pokročilejšího formátování, avšak veškerý obsah je plně přístupný i pro Vás.