Dominican monastery
The Dominican monastery and the church of the Assumption of Mary, located on the site of the present Vsehrd Square, are dated about 1295. The monastery and (probably) the church, were destroyed in 1421, the year of Chrudim's surrender to Jan Zizka. The monks of the monastery were burned, an act not especially in conflict with the mores of the time and local traditions, on the spot where previously Hussites captured in Chotebor had been immolated. In the early 18th century a statue of the Transfiguration. was placed on the site. Later finds indicate that neither the church nor the monastery had been large or architecturally prominent.
A tale o of buried treasure alone survives the monastery.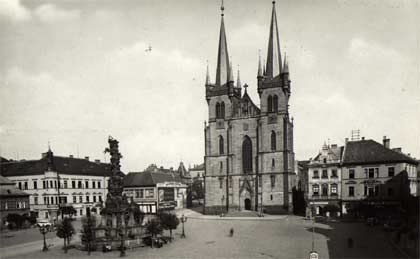 Statue of the Transfiguration - place, where the monks of the monastery were burned
Tato stránka je přístupná libovolným prohlížečem, nejlépe však vypadá v prohlížeči, který podporuje HTML 4.0 a CSS 2 (Internet Explorer od verze 5, Mozilla, Opera a další). Pokud čtete tuto zprávu, Váš prohlížeč zřejmě dostatečně nepodporuje CSS. Stránku sice vidíte bez pokročilejšího formátování, avšak veškerý obsah je plně přístupný i pro Vás.