Chrudim Castle
Reference is made in the founding document to the Chrudim castle and to Old Chrudim. The sovereign required the newly founded town to be fortified with walls and moats. Only traces of the castle are in evidence today: a bearded head with a wide-brimmed hat, a bishop's head wearing a ceremonial cap, a gargoyle's head, and two shields can be seen on the outside.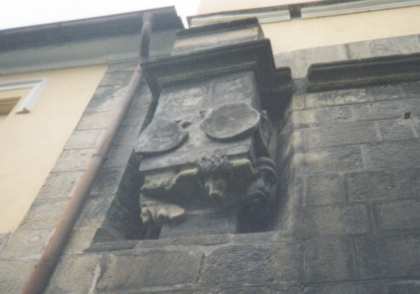 A bearded head, ...
The so-called Zizka's tower formed part of the castle and town defenses. The tower was razed in 1846, needlessly, without research or documentation. It was a two-story structure with a shingle roof; accessible by ladder; its ground floor walls were 2.25 meters wide.
The tower Hlaska, a tall, square tower with a turret bearing the town emblem, formed another part of the castle's original fortification. In its day it provide living quarters for the town's crier or trumpeter. The tower collapsed in 1717 and has not been rebuilt. Three gates guarded entry to the walled inner town. Upper Gate, Lower Gate and Dark Gate.
Tato stránka je přístupná libovolným prohlížečem, nejlépe však vypadá v prohlížeči, který podporuje HTML 4.0 a CSS 2 (Internet Explorer od verze 5, Mozilla, Opera a další). Pokud čtete tuto zprávu, Váš prohlížeč zřejmě dostatečně nepodporuje CSS. Stránku sice vidíte bez pokročilejšího formátování, avšak veškerý obsah je plně přístupný i pro Vás.