St. Vaclav (Wenceslaus) Pillar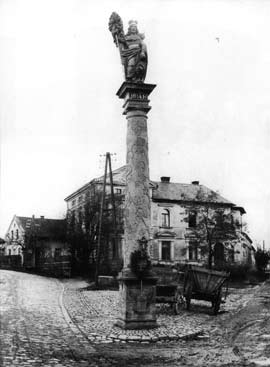 St. Vaclav (Wenceslaus) Pillar 1931
Source: Calendar Chrudim 2001
Originally the pillar testified to the Lord's martyrdom, as evident from the inscription on the pedestal:
"A.D. 1641, this memorial of the Lord's martyrdom has been erected to honor and praise God, at the expense of town resident Jan Maj". Plastic art, vine leaves and grapes, adorn the pillar, which had once stood above the vineyards at the Podkopanice mill.
In 1702 a daughter of the pillar's creator had a statue of St. Wenceslaus placed on the column, with the following inscription:
"Sv. Václav léta 1702 St. Wenceslaus, happily raised and erected in 1702, for greater adornment, and to honor and praise God, by Anna Bergmann of Lindenberk, the daughter of Jan Maj. St. Wenceslaus, pray for us".
Tato stránka je přístupná libovolným prohlížečem, nejlépe však vypadá v prohlížeči, který podporuje HTML 4.0 a CSS 2 (Internet Explorer od verze 5, Mozilla, Opera a další). Pokud čtete tuto zprávu, Váš prohlížeč zřejmě dostatečně nepodporuje CSS. Stránku sice vidíte bez pokročilejšího formátování, avšak veškerý obsah je plně přístupný i pro Vás.